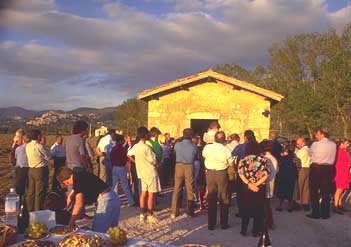 Reopening after the restoration (October 1994)
The building is very simple, repeating the typical local Romanesque formula of the little churches in the valley: a single nave, a pitched roof and a semicircular apse. There is no trace of a belfry.
Inside, two big round arches support the beams and create three spaces. The arches may have been built instead of trusses in order to simplify the roofing.
The walls are completely bare, except in the apse where a single fresco, much effaced, depicts the titular saint.
Like all the churches of the period it is strictly oriented, with its entrance on the west and its apse to the east.
It had been abandoned for several decades, but was recently restored and made usable again by its new owners.